One Two Ka Four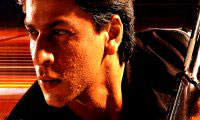 Starring: Shah Rukh Khan, Juhi Chawla, Jackie Shroff

Director: K. Shashilal Nair

MUSIC : A. R. Rehman

LYRICS : Majruh Sultanpuri, Nazir Ahmed
Javed (Jackie Shroff) and Ajay (Shahrukh Khan) are members of a special task force that combats drug trafficking. Their main target is a notorious drug lord called KKV (Nirmal Pandey). After a tense encounter, they do succeed in arresting him, but KKV, with his powerful connections manages to get acquitted in court.

Javed's entire life revolves around his four motherless children. But Ajay, who otherwise Javed regards as a younger brother, just canít stand the kids who dislike him too and make him the target of their naughty pranks.

Into this idyllic existence, comes a dastardly ambush; a sudden and cruel burst of gunfire that kills Javed. Ajay is devastated and decides that from now on he will look after Javed's orphaned children. But the children hate him and refuse to have anything to do with him. He tries to get of the help of his old roommate Champak (Dilip Joshi) but that too does not work. In sheer desperation, he turns to Geeta (Juhi Chawla) a loud and talkative rustic girl whom Javed had befriended. Geeta comes home with Ajay and wins over the children. Slowly but surely, she manages to capture the heart of the stubborn and hot headed Ajay, as well.

The story takes a mysterious turn when one day, as Ajay tails KKV to a nightclub he sees him dancing with a stunningly sexy woman. Itís none other than Geeta! Shocked out of his wits, he rushes home and angrily confronts Geeta who denies it. Ajay is confused when the children, too, assure him that she was all the time at home with them!

Ajay now determines to solve the mystery and get to the truth. Who is Geeta? Who killed Javed? Who can Ajay trust? Will Ajay evr know the truth? Well youíll have to watch the movie which reveals the suspense.

An entertaining film One Two Ka Four, has masala for the masses. The story with its suspense bit will hold the audience attention and so will the jodi of Shah rukh & Juhi. The songs and promos of the film do show promise and since Jackie doesn't appear much in the publicity of the film, he will be the surprise character leading to the suspense element in the film.

Not all of the recent Shahrukh and Juhi films have been hits and a thriller who-done-it element in the film might just worsen the situation. Itís a romantic film with a suspense angle to it, it needs to be delivered to the audience with such ease that they sit up and get more involved in it but Unfortunately, One Two Ka Four fails to show this!
Click for More Bollywood movie reviews


Valued users,
you are cordially encouraged to Send us reviews on recent Bollywood movies you have seen. If up to the mark, we will publish your review along with your name and address.
HEARTBREAKeRS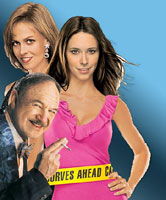 Starring: Sigourney Weaver, Jennifer Love Hewitt, Ray Liotta,

Director: David Mirkin

Release Date: March 23, 2001

Synopsis: A mother and her daughter form a con-man team based out of Palm Beach, Florida. Their scheme is a lucrative one whereby the mother marries a rich man, the daughter seduces him, and the divorce settlement is the jackpot

Genres: Comedy, Romance.


In David Mirkin's "Heartbreaker," Sigourney Weaver and Jennifer Love Hewitt play a mother-daughter team of con women with a simple, and for the most part foolproof, M.O. First the mother, Max (though she uses a number of aliases), seduces a randy rich guy into matrimony, and then, usually with 24 hours of the unconsummated marriage, her daughter, Page, with the aid of very small dresses and abundant natural gifts, leads the frustrated bride-groom into adultery.

A large divorce settlement quickly follows, and mother and daughter hit the road in search of the next patsy, squabbling and sulking all the way. In the movie's first scenes, we witness a textbook application of the scam, applied to a New Jersey chop-shop mogul named Dean (Ray Liotta), which nets $300,000 and a champagne-colored Mercedes-Benz.

The film's title may seem anatomically inaccurate, given Max and Page have elevated the exploitation of male sexual weakness to a science. The picture, however, is not altogether without heart. The loving but sandpapery parent-child relationship at the center of "Heartbreakers" is similar to those in such recent movies as "Tumbleweeds" and "Anywhere but Here," but this suave comedy,thankfully, forgoes throat-catching (or, as the case may be, stomach turning) emotional earnestness in favor of bubbly silliness and medium-dry wit. Its inevitable moments of sentimentality - as Max struggles with her daughter's desire for independence, and Page is torn between true love and a professional life based on false pretenses - occur in an atmosphere of cheerful amoralism

Click for More Hollywood movie reviews


Valued users,
you are cordially encouraged to Send us reviews on recent Hollywood movies you have seen. If up to the mark, we will publish your review along with your name and address.