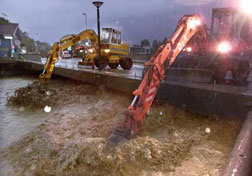 Rescue workers with excavators remove tree trunks from the river Rhone at Visp, southwestern Switzerland, to prevent the water-passage under the bridge gets blocked, on Sunday, October 15, 2000. Weather along the Swiss-Italian border remains treacherous after Saturday's disaster in Gondo, where a mudslide swept away a third of the village. (AP PHOTO/Laurent Gillieron)
October 16, 2000
AOSTA, Italy (AP) - An unrelenting three-day deluge flooded northwest Italy on Sunday and sent rivers surging over their banks. Authorities evacuated 1,500 people; one person was reported dead and an unknown number of others missing.
Few details were immediately available on the reported death, in the Alpine Valle d'Aosta. The missing people were believed to have been in two houses swept away by the flooding Dora river, Italy's ANSA news agency said.
Phone service to the area was out. The region was isolated by road and rail as well, with rain and mud slides shutting down six local, national and international rail routes. Police urged motorists to avoid all but essential travel.
Italy's government set up a crisis center in Rome to handle the crisis in the Piedmont and Valle D'Aosta. Emergency crews were looking at using helicopters to rescue people cut off by the floods.
Rain has drenched mountain towns and villages at Italy's border with France for days. In Switzerland, 13 people were missing Saturday after mud and rock loosened by the rain hit a village at a pass connecting Italy and Switzerland.