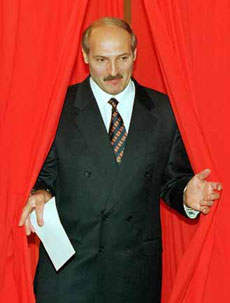 Belarus President Alexander Lukashenko smiles at a polling station during the elections to the lower house, or Chamber of Representatives, Minsk, Sunday, Oct. 15, 2000. Pro-government forces in Belarus looked set to sweep parliamentary elections Sunday after many independent candidates were barred from running and the opposition promised to boycott the vote. (AP Photo /Sergey Grits)
October 16, 2000
MINSK, Belarus (AP) - Pro-government forces in Belarus looked set to sweep parliamentary elections Sunday after many independent candidates were barred from running and the opposition promised to boycott the vote.
Human rights groups have already declared that the election will not be free or fair. The Organization for Security and Cooperation in Europe, the continent's leading elections watchdog, did not send observers.
President Alexander Lukashenko, who has used his widespread powers in Belarus to crack down on dissent, dismisses the criticism and says the vote will be fully democratic.
"If the West and international observers do not recognize the elections, it will have a negative effect on the image of the democratic West and will show its double standards," Lukashenko said after casting his ballot.
"Belarusians are holding elections for themselves, not for anyone else," he said.
Voting stations opened at 8 a.m. local time (0400 GMT), and the first of the country's 7.3 million eligible voters began casting their ballots. The elections will be declared valid if more than 50 percent of the electorate votes. Preliminary results were not expected before Monday.
Of the 565 candidates running for 110 seats in the lower house, or Chamber of Representatives, only 54 are not Lukashenko supporters. Some opposition contenders were barred from running on registration technicalities. Others on the ballot barely got their message out because of Lukashenko's crackdown on the independent media.
Many Western governments never even recognized the outgoing legislature, which was elected in a dubious vote in 1996 after Lukashenko ousted its opposition-dominated predecessor.
On Saturday, more than 3,000 anti-government protesters marched in the capital Minsk urging Belarusians to join their boycott the election, which they have said will be a farce.
Lukashenko is widely popular in the former Soviet republic of 10 million, despite a struggling economy and rampant inflation. The opposition is small and has been unable to sway many Belarusians, who long for the stability of the Soviet era.
Several opposition leaders have disappeared in recent years in what colleagues have labeled police abductions, though the government denies any involvement.