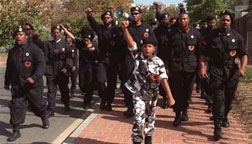 Members of the New Black Panther Party give the black power salute as they march to the Israeli embassy in Washington Saturday, Oct. 14, 2000. The group was denouncing Israeli actions against the Palestinians in the Mideast. (AP Photo/Ron Thomas)
October 16, 2000
BEIRUT (AP) - Hezbollah guerrillas claimed Sunday to have captured an Israeli army colonel, threatening to raise tensions in an already volatile region.
Israel said it was unaware of any soldier missing.
The Iranian-backed group's own television station and Lebanese TV showed Hezbollah chief Sheik Hassan Nasrallah making the announcement at a meeting of Islamic leaders, who rose to applaud after he said: "In a new qualitative achievement and in a complicated security operation, the Islamic resistance was able to take prisoner an Israeli army officer with the rank of colonel who works with one of the Israeli security agencies."
He said details will be announced later, "at the appropriate time."
The reference to a "complicated security operation" rather than a military operation was a strong indication that the man was taken in an intelligence sting, instead of captured in a gunbattle like three Israeli soldiers eight days ago in southern Lebanon.
Hezbollah's claim could not be immediately confirmed by Lebanese security officials.
But Lebanese sources, speaking on condition of anonymity, said the information they had was that Hezbollah captured an Israeli Arab working for Israeli intelligence who had been seeking contact with the Lebanese to get information about the three captured Israeli soldiers. The circumstances of his capture were not yet clear.
In Israel, Prime Minister Ehud Barak's office said Barak brought up the report in a Cabinet meeting this morning.
"Israel doesn't know anything at this point about an officer who is allegedly in Hezbollah hands but the investigation is ongoing," Barak told the ministers, according to his office.
The Israeli army was going house to house in communities along the border, checking the whereabouts of every reserve soldier who lives there. The army also was patrolling along the border, looking for any signs that a soldier was missing.
Last week, Hezbollah captured three Israeli soldiers along Lebanon's border with Israel and said it wanted to swap them for dozens, perhaps hundreds, of Arab prisoners held in Israel. The United Nations has attempted to mediate in that capture, so far without success.
Last week's Hezbollah strike, observers say, inspired Palestinians in the West Bank and Gaza Strip in the face of what is widely seen in the Arab world as Israel's excessive use of force in two weeks of deadly clashes.
Israeli and Palestinian leaders were to meet Monday at a summit hosted by Egypt to try to end the fighting. At the summit site in Sharm el-Sheik, Egypt, Egyptian, U.N. and U.S. officials were following the events at the Israeli-Lebanese border, watching in particular for Israel's response. A harsh Israeli response could jeopardize fragile efforts to keep Monday's summit on track.
Israel holds 15 Lebanese prisoners, including guerrilla leaders.
Palestinians have asked Hezbollah to include about 1,600 Palestinian prisoners in any swap. And Iran, Hezbollah's chief backer, said four of its nationals believed held by Israel since 1982 should be freed as part of a prisoner swap for the Israelis.