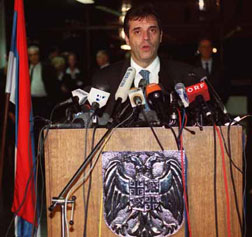 Yugoslav President Vojislav Kostunica addresses media after his return from EU summit in Biarritz, France Saturday October 14 2000. Kostunica won pledges of major economic aid from EU leaders, but ran into resistance from allies of ousted leader Milosevic to sweeping pro-democracy changes in the country's main republic. Less than a week after taking office, Kostunica flew to Biarritz to meet with leaders of the 15 EU members and returned with pledges of 200 million euros (dlrs 175 million) in aid and words of encouragement as he seeks to extend control over institutions in Yugoslavia and its main republic, Serbia. (AP PHOTO / Mikica Petrovic)
October 16, 2000
BELGRADE (AP) - President Vojislav Kostunica met his allies Sunday to find ways to push Slobodan Milosevic's rival camp into a definite agreement on how to share power in the country's main republic, Serbia.
After a week of pressure, Milosevic's camp appeared Saturday to have agreed to demands by Kostunica's pro-democracy forces to dissolve Serbia's hardline parliament later this month and call early elections in the republic in December.
But in talks that ended just before midnight Saturday, Milosevic's allies appeared reluctant to agree to all details of a proposed interim government where they would share key ministries with Kostunica's backers until early elections.
The changes would effectively end the last vestiges of Milosevic's old guard and replace them with pro-democracy supporters Kostunica, who overwhelmingly won Yugoslav presidential elections last month.
At the end of negotiations Saturday, Zoran Djindjic, Kostunica's key aide, said Milosevic's Socialist officials "asked for another day of consultations."
Pro-democracy leader Vladan Batic told The Associated Press the Socialists would also hold their own meeting on Sunday to discuss the joint negotiations.
"The (joint) talks are coming to a conclusion and I think it will be definitely finalized tomorrow," Batic said. "We have reached an agreement which I think will hold because we talked with the top Socialist officials."
Pro-democracy forces have set a 10:00 a.m. (0800 GMT) Monday deadline for the Socialists, insisting that changes be made in Serbia's government.
"Our offer to the Socialists is take it or leave it," Djindjic said. "Therefore, either they accept our offer on Monday, or there will be no more negotiations."
Another pro-democracy leader, Nebojsa Covic, suggested that new street unrest, of the kind that forced Milosevic to concede electoral defeat, could follow any renewed foot-dragging by the Socialists.
Milan Milutinovic, Serbia's president and a Milosevic appointee, when asked about the deadline, said only, "We'll see."
On Saturday, Milutinovic suggested not all disagreements had been removed but said a Dec. 24 early election date had been agreed to.
"We expect that all relevant political factors will participate in the reshuffled government," he told reporters.
The pro-democracy forces have demanded a completely new interim government, and not only a reshuffle of the existing one dominated by Milosevic's allies. In particular, they have said four key ministries - the police, justice, information and finance - must be jointly run by the Socialists and Kostunica's people.
On another front, Kostunica returned Saturday from a European Union summit in Biarritz, France, with pledges of 200 million euros (dlrs 175 million) in aid and words of encouragement.
Although Kostunica assumed the federal presidency on Oct. 7, he must cut deals with the leaderships of the two republics - Serbia and Montenegro - to wield real power. The government in Montenegro is anti-Milosevic, but Serbia's government represents the last major bastion of Milosevic's supporters.