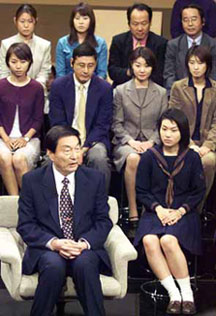 Chinese Premier Zhu Rongji, left in front row, talks with Japanese audience as he takes part in a town meeting for a live television program at Tokyo Broadcasting System's TV studio in Tokyo Saturday, October 14, 2000. Zhu is on the second day of a six-day visit to Japan. (AP Photo/Susumu Takahashi, POOL)
October 15, 2000
TOKYO (AP) - Eager to soften China's image with the Japanese public, Chinese Premier Zhu Rongji on Saturday answered a variety of questions on a nationally televised "town hall" meeting - even one half in jest about whether he was afraid of his wife.
The tone of Zhu's six-day visit has been that of rapprochement from the start. Both sides have been careful to soft-pedal on the touchy issue of Japan's wartime atrocities, long a sticking point in previous talks between the two nations.
But nowhere was the new message of friendship clearer than in the TV show. A relaxed Zhu sat in a chair surrounded by regular Japanese people, who appeared enraptured by the premier, welcoming him with applause.
The crowd broke into laughter when Zhu was asked about his reputation that he was afraid of no one but his wife, Madame Lao An.
Zhu and his wife - toward whom the cameras zoomed after the question - also giggled.
After a pause, Zhu replied, "I am not afraid of my wife. I think she's cute."
He was equally personable when asked about Japan's aggression during World War II. He told the crowd that whether to atone or not was "Japan's problem."
"But I hope you will consider it," he said calmly.
Earlier in the visit, Zhu conceded that the Japanese people, not only the Chinese, were victims of wartime aggression.
The atmosphere of his visit marks a striking contrast from the tensions set off by the visit of Chinese President Jiang Zemin in 1998, when he lambasted Japan for its invasion of China in the 1930s and '40s and demanded an apology.
Anti-Japanese feelings dating from Japan's brutal World War II occupation are common among Chinese, and Chinese military thinkers often rank Japan along with the United States as a potential opponent.
More recently, Japanese have also begun to have brewing anti-Chinese feelings, mainly because of fears about the military power and buildup of the superpower Asian neighbor.
When Chinese ships sailed unannounced this summer into waters claimed by Japan, Tokyo froze aid to China. China calls them research vessels, while Japan says some were warships. Japan resumed the aid this week.
Zhu, who has held talks with Prime Minister Yoshiro Mori and other Japanese politicians during the tip, seemed to see his mission as winning over the wary Japanese public.
"It's epoch-making for a Chinese leader to say so much in his own words. I think it's great he had the courage and took the risk to do it," said Tetsuya Chikushi, the host of the TV show. "I found it fascinating, and I had a good time."