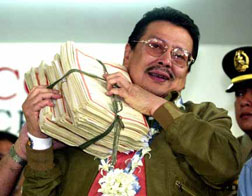 President Joseph Estrada lifts a bundle of land title for distribution to urban poor beneficiaries Saturday, Oct. 14, 2000 in suburban Quezon City as he tries to build up his popularity among the people. Estrada is facing a very serious scandal of his presidency following an expose by his close friend and governor of Ilocos Sur Gov. Luis "Chavit" Singson that he received money from illegal gambling operations known as "jueteng". (AP Photo)
October 15, 2000
MANILA (AP) - President Joseph Estrada apologized Saturday for a mounting scandal over alleged gambling payoffs to him and said he would end the Philippine government's extensive involvement in gambling operations.
"I'm sorry it had to come to this," he said. "Obviously the Filipino people do not approve of having the government itself involved in any form of gambling, no matter what its intentions may be."
He said he will privatize the Philippine Amusement and Gaming Corp., the government agency that controls legal gambling and runs casinos and other gambling ventures.
"The government will get out of gambling. Although the government earns so much from Pagcor earnings, the government will turn its back on it once and for all," he said in a nationally televised speech.
Estrada did not directly respond to accusations by a provincial governor that the president was given more than 400 million pesos (dlrs 8.6 million) in payoffs by illegal gambling operators, except to say his conscience was clear and that any evidence should be presented to Congress.
Pagcor's gambling operations have expanded rapidly under Estrada's administration, and gambling dominates much of the prime-time broadcasting on the government's television network. Last month, Pagcor introduced a numbers game designed to replace a highly popular illegal game called "jueteng."
Philippine newspapers reported Saturday that a large Catholic charismatic group, El Shaddai, had threatened to withdraw its key support for the president if he did not stop all forms of gambling.
Demands for the president's resignation have soared in the past week as a result of the payoff allegations by Gov. Luis Singson, involving jueteng operators.
Widespread rumors that Estrada planned to declare a state of emergency to counter the calls for his resignation prompted the president to summon top military officials Friday for a highly unusual late-night televised denial.
Many found the 11 p.m. appearance by the military officers to be unsettling rather than reassuring, and an indication the political crisis facing the Estrada administration is fast worsening.
Estrada's wife, Loi Ejercito Estrada, denied in a separate televised speech Saturday accusations by Singson that shopping bags filled with gambling payoffs had been carried into the president's residence and that 20 million pesos (dlrs 420,000) had been given to her.
"I have never, never seen any bags of money, and I never received 20 million pesos," she said.
Among those who have called for the president to step down are the dominant Catholic Church, opposition politicians, and citizens' groups.
Raul Roco, a leading opposition senator, demanded Saturday that Estrada and Vice President Gloria Macapagal Arroyo resign and that new elections be held within 60 days.
Arroyo has already resigned from a Cabinet post to distance herself from Estrada and two senior lawmakers have quit Estrada's party.
On Saturday Laguna provincial Governor Jose Lina, who fought against jueteng in his province, also resigned from the administration party.
"Many of our countrymen have been dismayed and saddened and have lost hope in your ability to lead our nation," Lina said. "A person is innocent until proven guilty, but I cannot cheat on what my heart is saying, that your hands have been stained in this jueteng controversy."
Opposition politicians said Friday they will delay their filing of an impeachment complaint against Estrada until next Wednesday so a Senate probe of the alleged payoffs can continue.
Those hearings are likely to be halted if an impeachment complaint is filed, since the House of Representatives has responsibility for investigating and preparing any impeachment charges under the constitution.
Opposition politicians say they fear the charges will not be fully investigated by the House, where Estrada's LAMP party has a sizable majority.
Singson, the governor of northern Ilocos Sur province, testified Friday to a Senate blue-ribbon committee that Estrada planned to use some of the alleged payoffs to bankroll a private casino.
Singson has offered little evidence other than lists of alleged recipients and several tape recordings of conversations to back up his claims.
Several people named in the lists, however, have confirmed they received money, lending credence to the allegations.
Many political analysts say the legal proceedings are far less important than the exploding popular opposition to Estrada.
The accusations have also taken a severe toll on the Philippine economy by eroding already-weak investor confidence in the Estrada administration.
On Friday, the peso sank to a record low of 48.50 pesos per dollar.
Allegations of corruption have long dogged Estrada's administration, but this is the first time a high-ranking official has accused Estrada of profiting personally.