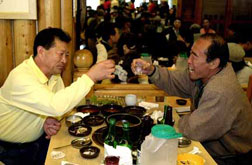 South Koreans toast during free luncheon event to congratulate President Kim Dae-jung winning the Nobel Prize, at a restaurant in Seoul Saturday, Oct. 14, 2000. President Kim won the prize for his efforts to reconcile with North Korea, which registered dramatic success in June when he held a summit with North Korea's leader Kim Jong Il. (AP Photo)
October 15, 2000
LOS ANGELES (AP) - Koreatown, always bustling, exuded special pride as residents learned the South Korean President won this year's Nobel Peace Prize.
Among most Korean Americans, there was hope as well that Kim Dae-jung's award might speed reunification of the divided peninsula.
"They must allow families to visit and cross the border freely," said Harry Lee, 39, a pest-control worker who left Korea three years ago with his wife and two sons.
"It's exciting. He's the first Korean to win the prize," said Elaine Kim, 20, a student working part-time at a gift shop. "I'm proud of him."
Kim, 79, was honored for pursuing contacts with North Korea. After more than a half-century estrangement, Kim traveled north in June for talks with Kim Jong Il.
At their meeting in the North Korean capital, Pyongyang, the two leaders agreed to work toward eventual reunification. The nations then embarked on a rapid series of friendly gestures, including a reunion of separated family members, the reopening of liaison offices and an agreement to reconnect a cross-border railway.
"There may now be hope that the Cold War will also come to an end in Korea," the Nobel committee's chairman, Gunnar Berge, said in announcing the award.
It's a hope Steve Kim shares.
"Four years ago, before he became president, no one visited North Korea. They didn't even think about it," said Kim, 25, a salesman at an electronics store.
He moved to the United States from South Korea when he was 15, has relatives in the north and hopes to visit them.
"I hope we're like a Germany," he said, referring to the reunification of that country in 1990.