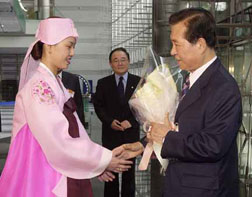 South Korean President Kim Dae-jung, right, receives a bundle of flowers from an unidentified girl to congratulate his winning of the Nobel Peace Prize on his arrival at the third Asia-Europe Meeting (ASEM) Convention Center in Seoul to check preparations for its Oct. 20-21 meeting Saturday, Oct. 14, 2000. Center is South Korea Foreign Affairs and Trade Minister Lee Joung-binn. (AP Photo)
October 15, 2000
SEOUL (AP) - It was a day of glory for President Kim Dae-jung. But for his lifetime critic and predecessor, former President Kim Young-sam, it was a day of humiliation.
While the nation was rejoicing the awarding of the Nobel Peace Prize to President Kim on Friday, Kim Young-sam was sitting in his car for 14 hours in a chill autumn night outside a Seoul university, where students blocked him from delivering a scheduled lecture.
Ending the standoff with students yelling "Go away!" Kim Young-sam returned home early Saturday - but not without venting his anger at the president and the Nobel Committee.
"It is total nonsense that Kim Dae-jung won the Nobel Peace Prize. The prestige of Nobel prizes has dropped to the bottom," Kim was quoted by his spokesman, Park Jong-woong, as saying.
The barbs illustrated the intensity of the jealous rivalry that exists between the two Kims, living symbols of South Korea's long struggle for democracy.
But they said as much about the divisive domestic political environment the President Kim must overcome to win a strong mandate to push his quest for peace with communist North Korea.
The Nobel Committee said it awarded the prize to Kim Dae-jung for easing the Cold War-era conflict on the divided Korean Peninsula.
His supporters hoped the Nobel would help him win more support at home and abroad to accelerate active engagement with the North.
But like Kim Young-sam, many conservatives still accuse the president of granting too much aid and other concessions to please Pyongyang while failing to extract solid tension-reducing measures, such as arms reductions, from the hard-line Stalinist regime. They are collecting signatures to oppose the rapprochement, which they call too precarious.
For decades, Kim Dae-jung and Kim Young-sam were opposition leaders and favorites among students for their struggles against the country's past military-backed governments.
South Koreans often compare the two Kims. Kim Dae-jung is a methodical thinker sometimes accused of being a bore. Kim Young-sam is a determined character, but critics called him stubborn.
Kim Dae-jung, 76, was jailed, sentenced to death and, he says, the target of four assassination attempts during the years of the country's political domination by the military.
Kim Young-sam, 72, staged a 23-day-long hunger strike against then military strongman Chun Doo-hwan in 1983.
But throughout their torturous careers as fiery opposition leaders dedicated to democracy, they also competed against each other to become president.
Their rivalry was so deep that they failed to field a single opposition candidate and divided the antimilitary vote in free elections in 1987. As a result, former general Roh Tae-woo won that vote, extending military-dominated rule for five more years.
Kim Young-sam returned, however, to beat Kim Dae-jung to win the 1992 poll. In his early years in office, he was widely popular for throwing into jail his two military-backed predecessors, Chun and Roh, over a coup and corruption. The decision set an important milestone in South Korea's democratization.
But when he left office in early 1998 after a five-year term, his popularity was at rock bottom. During his rule, South Korea's economy virtually collapsed amid the Asian financial turmoil. The country had to accept a record dlrs 58 billion bailout fund from the International Monetary Fund.
Kim Dae-jung replaced the disgraced Kim Young-sam in 1998, finally winning the presidency after three failed attempts.
He presided over the near-bankrupt economy's dramatic recovery in 1999. But his greatest achievement came in June, when he held a historic summit with North Korean leader Kim Jong Il and agreed to work toward eventual reunification of the peninsula, divided into the communist North and the pro-Western South after World War II.
The two sides fought the Korean War from 1950-1953 and technically remain at war since no peace treaty was ever signed.
Like Kim Dae-jung, Kim Young-sam also sought rapprochement with the North in his early days in office.
He could have been the first Southern leader to meet a North Korean leader if Kim Jong Il's father, President Kim Il Sung, had not died suddenly only weeks before a scheduled summit in 1994. But he has since turned into a hard-liner on North Korea.
Kim Young-sam was surrounded by plainclothes police Friday night, facing picket-wielding students, once his biggest supporters.
"Go away! We didn't invite you, who caused the economic crisis," 200 students chanted, blocking Kim from entering Korea University.
He backed away only after school authorities promised another lecture.
"I am fighting for democracy," he told school officials.