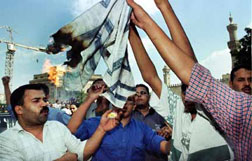 Protestors burn the Israeli flag during an anti-Israeli demontsration following Friday prayers, at the Al-Azhar mosque in Cairo, Oct. 13 2000. Violence between Israeli forces and Palestinians has escalated in the past ten days. (AP PHOTO)
October 15, 2000
WASHINGTON (AP) - President Bill Clinton said Saturday he will attend a Mideast summit Monday in Egypt with Israeli Prime Minister Ehud Barak and Palestinian leader Yasser Arafat.
"I will do everything I can to minimize the violence and to do all the preparation necessary to maximize the chances of a successful meeting," Clinton said in a brief statement at the White House before leaving on a political trip.
Clinton has labored over the past eight days to end the crisis in the Middle East, where a lasting peace has been a top priority for his administration.
Violence in the region during the past two weeks has resulted in the deaths of nearly 100 people - most of them Palestinians.
"We should be under no illusions," a weary Clinton said. "The good news is the parties have agreed to meet and the situation appears to be calmer. But the path ahead is difficult. After the terrible events of the past few days the situation is still quite tense."
U.N. Secretary-General Kofi Annan, who has been in the region for a week trying to broker an end to the bloodshed, said earlier that the summit aimed at ending the worst Israeli-Palestinian violence in decades would take place without preconditions.
Egyptian President Hosni Mubarak had offered to serve as host for the summit at the Egyptian resort of Sharm el-Sheikh.
"President Mubarak and I are convinced that we must make every effort to break the cycle of violence," Clinton said.
With the summit in two days, Clinton said, "We expect that both parties will do all in their power to cease hostilities and halt the violence."
The violence appeared to be abating Saturday, and Israel and the Palestinians appeared to be stepping back from the brink of war. But relations were so strained that Arafat and Barak asked international mediators, including Annan and British Foreign Secretary Robin Cook, to carry messages back and forth.
The 16 days of clashes began after the visit of Israel's hardline opposition leader, Ariel Sharon, to a Jerusalem shrine holy to Jews and Muslims.
"Our central objectives must now be to stop the violence, to restore common safety, to agree on a fact-finding mechanism concerning how this began and how it can be prevented from occurring again and to find a way back to dialogue and negotiations," Clinton said.
In addition to getting peace talks back on track, Clinton has been working to find those responsible for the apparent terrorist attack Thursday on a U.S. warship in Yemen that killed 17 American sailors.
On Friday, the president spoke by telephone three times to Saudi Arabia's Crown Prince Abdullah. He also called Annan, King Mohammed VI of Morocco, British Prime Minister Tony Blair and Mubarak.
Clinton also talked to Yemeni President Ali Abdullah Saleh about the explosion that tore a hole in the side of the USS Cole.
He canceled a political trip to Missouri and Arkansas on Friday and stayed at the White House to conduct telephone diplomacy with Mideast leaders.
The president worked late Friday night to break the Mideast stalemate, but took a break shortly after 0100 GMT to call those gathered in Little Rock, Arkansas, for a Democratic fund-raiser. He told them he remained hopeful for a breakthrough.